Self-Guided  Rafting Through Vineyards & Redwoods
Memorial Beach to Wohler Bridge
9 Miles
4 – 6 Hours

Dog friendly
Memorial Beach to Crow Bar
4 Miles
1-1/2 – 3 Hours
DOGS NOT PERMITTED (NO EXCEPTIONS)
Our half-day trips will stop running September 21st
Due to the possible presence of toxic blue green algae, and the recent death of one dog, we highly dicourage dogs on our river trips until further notice.  Any dog owner that chooses to bring their dog down the river is doing so with this knowlege.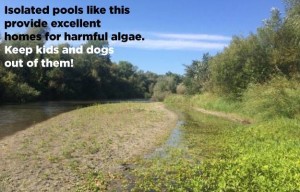 UPDATE ON BLUE GREEN ALGAE FROM THE RUSSIAN RIVER KEEPER: Blue Green Algae Update for Friday Sept 11th 7pm:  Continue to keep dogs/ pets away from river – OK for swimming and people. Results from samples taken several days ago have shown the same low levels of blue-green algae mixed in with other algae near the shoreline and in some floating mats. Based on those results the same normal cautions apply for people, don't drink river water in any natural river, don't eat the algae and watch young infants and toddlers closely who might still put things in their mouths. For your pets safety please keep them away from the river until testing confirms harmful algae levels have dropped.
Calendar
Clear

Sunny skies. High 89F. Winds W at 5 to 10 mph.

Clear

Sunny. High around 85F. Winds W at 10 to 15 mph.

Clear

Sunny skies. High 87F. Winds W at 5 to 10 mph.

Clear

A mainly sunny sky. High 91F. Winds S at 5 to 10 mph.

Clear

Sunny. High 94F. Winds SE at 5 to 10 mph.
Only 70 mi from San Francisco!
Why Choose Russian River Adventures?
The most secluded section of Russian River – No buildings, no roads, no nothing.
Inflatable canoes are more comfortable, more stable, more fun!
The best section on the Russian River for seeing birds and wildlife!
Less paddle time, more time to play in the water, or to hang out on a gravel bar.
The best family experience on the river.
We do not overcrowd the river with hundreds of loud, metal canoes.
Owned and operated by a veteran river rat!
What We Provide
SOAR Inflatable canoe
2 paddles
Pfds (Life jackets) for all passengers
1 dry bag per canoe to keep your personal articles dry
15 minute pre-trip riverside orientation
Return shuttle ride from the take-out back to your car
Rinse station, bathrooms and changing facilities at our location
Necessary Gear / Checklist
Picnic lunch and beverages. Addition snacks recommended.  No styrofoam coolers allowed.
Hat and sunscreen
Water shoes, aqua socks, or tennis shoes. Do not go barefoot! Flip flops not recommended!
Swim suit, Shorts, T-Shirt   Jeans not recommended.
Towels: During the hot summer months, we recommend you leave your towel in the car for when you return.
River Gear Store
If you have forgotten anything when you arrive at our office, we either have it for you or can tell you how to quickly get it!
Our circa 1940 San Francisco cable car has been converted into our Russian River Adventures Welcome Center. We offer most of the necessary gear including: water socks, sunscreen, lip balm, sunglasses and straps for glasses, ball caps, wide-brim hats, towels, doggie life jackets,  and men's and women's tanks and tee's!
Pack a Picnic Or Let Us Have a Picnic Prepared For You!
SOAR canoes can hold an ice chest up to 45 quarts, so bring a cooler w/ good sandwiches and your favorite beverages.
The closest market to us is the A&M Market, just around the corner. They can whip up a delicious, fresh deli sandwich, plus it's a convenient place for drinks, beer, water, ice, etc. There are other great places in Healdsburg to pick up lunch too!
Order from us! We'll provide a wonderful lunch for you from the A&M Market, pack a cooler for you and stock it w/ ice. You are welcome to bring your own beer, wine and additional drinks. Click here to place your order.
We have a limited number of coolers for guests that are travelling and don't have a cooler with them.  Please ask us at check-in.