Memorial Beach to Crow Bar
4 Miles  –  1.5 to 3 Hours
Our Half Day is the best on the Russian River! You'll find a great current, plenty of clean, clear water and loads of beaches for excellent river swimming and cooling off during our hot summer days.  Take your time and lazily float this easy 4-mile stretch of Russian River immediately downstream of Healdsburg.  It's perfect for families with young children, as well as visitors who don't have a lot of time, but still want to enjoy the magic of our beautiful river.
  
Rental Period
Check-in for our Half Day is from 12:30 pm to 1:30 pm.  First launch begins at 1pm.  The rental period officially ends at 5:00 pm that same day.  We will offer a 30 minute grace period for late arrivals.  Any canoe that has not arrived at Take-Out by 5:45 pm will be assessed a late charge of $50 per canoe.  The renter of record whose credit card we have will be charged and responsible for all late arrivals in that party.  Any canoe that arrives after 7 pm will be charged an additional $50.  This policy will be strictly enforced!
Return Shuttle
Return shuttle provided.  They run approximately every 30 minutes.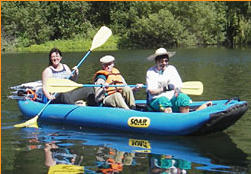 Prices
Adults – $50.00 per person
Children – (ages 2 – 12) $25.00
Note: Children 12 and under must wear a lifejacket at all times while in a SOAR canoe.
Infants – $25.00
There must be 2 adults in this canoe.  The infant must be directly in front of an adult that is a competent swimmer.  The other person must be comfortable paddling a canoe / raft.  If not, please leave your infant with a sitter.
Dogs – DOGS ARE NOT PERMITTED.  NO EXCEPTIONS.
Groups – A group of 10 or more adults qualifies for a group discount.  The discount will automatically apply on the online reservation when the 10 Adult requirement is met.
Group Rate: $45.00 per person.
Payment
Full payment is due at the time of your reservation.
Cancellation Policy
For Monday – Friday reservations, full refunds are possible if cancellation is made before 5 pm the day before the reservation date.  For weekend reservations, full refunds are possible if cancellation is made before 5 pm on Thursday before the coming weekend. After 5 pm on Thursday it is possible to reschedule your trip, but there is a 50% penalty. For groups of 8 or more cancellations must be made 7 days prior to your departure, cancellations made less than 7 days prior will be subject to a 10% per person cancellation fee.  In case of rain or bad weather, there will be no refunds.  We will issue a rain check for a later date of your choosing.  No shows – If you book a reservation and you or someone in your group do not show up and do not cancel, there will be no refund.